WWW.BRAZILIAN-TRANSSEXUALS.COM
- MODEL AGE VERIFICATION -


---
If you find a model on ANY Internet site that you know contains underage content,
please contact the FBI or ASACP.(Adult Sites Against Child Pornography).


---
We are Adult Rated with RTA:


---
Brazilian-Transsexuals.com is in Compliance with
U.S. Federal Age Verification Requirements
18 U.S.C. §2257 Records Keeping Requirements Compliance Statement
---
The title of this work is: www.brazilian-transsexuals.com

All records required to be maintained by federal law are in the possession of Wanderson Batista dos Santos whose title is: Custodian of Records, and are available for inspection during normal business hours at X Vortex Produções Ltda, Av Nossa Senhora de Copacabana 1302/609, Copacabana, Rio de Janeiro, RJ, Brasil.
---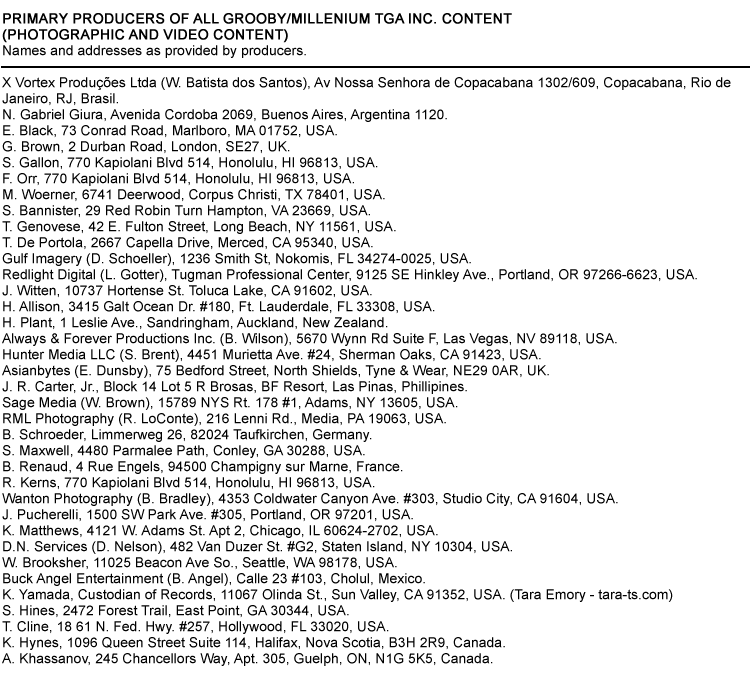 ---

This website is a proud member of the Free Speech Coalition.
---
© Copyright Brazilian-Transsexuals.com 1999 - 2007. All images on this site are original content or licensed material.We hold model releases and ID's for every model and are compliant to 18 USC U2257 Compliant. The records required by Section 2257 of Title 18, United States Code, with respect to this site, and all graphical materials associated therewith on which this label appears, are kept by the custodian of records: F Orr, 770 Kapiolani Blvd Suite 514, Honolulu. HI 96813, USA. Any misuse, unauthorised use or copyright infringement of these images whatsoever will be met by criminal and civil litigations WITHOUT FAIL.
Any questions or comments please contact Brazilian-Transsexuals